Experience a very special pleasure.
BÉNAZET VODKA combines timeless elegance with a perfectly mellow taste. Clear and fresh, with a sophisticated aroma and a lingering, pleasant aftertaste.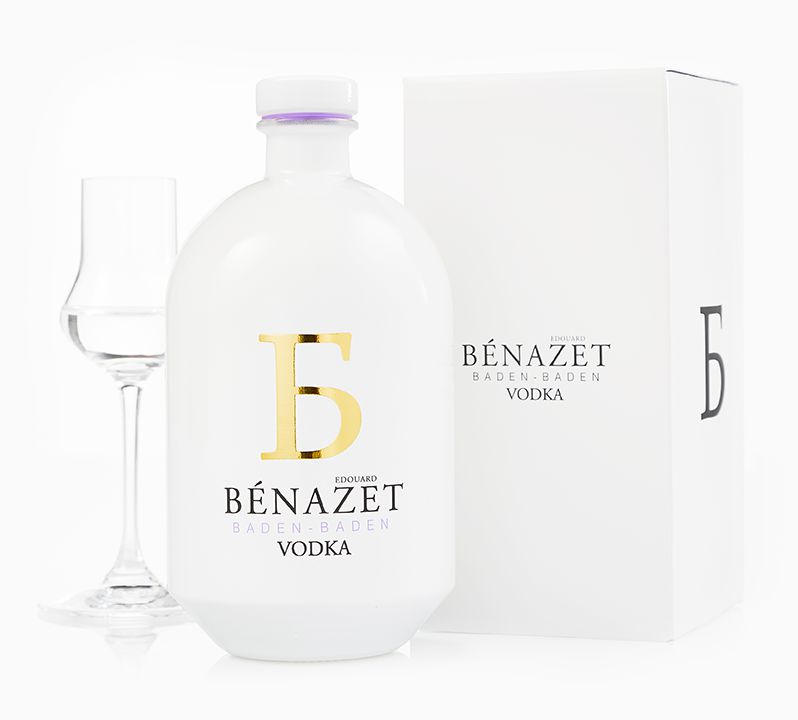 BÉNAZET VODKA is a homage to two outstanding visionaries with audaciousness, who were at the same time benefactors with a great deal of creative power: Jacques and Édouard Bénazet.
Arriving from Paris in 1838, the renters of casino halls transformed Baden-Baden into the classy and cosmopolitan summer capital of Europe, which became the ruin of the nobility and high society.
The highlights of the Bénazets such as the theatre, the race course, the Trinkhalle and, not least, the magnificent halls of the casino are just as radiant today in Baden-Baden. And the myth lives on.
France's golden winter wheat gives BÉNAZET VODKA its mild and unique taste.
Gently and naturally filtered through rock strata, the purest spring water from the Black Forest lends BÉNAZET VODKA its smooth quality.
It bears the noble character of the chalk soils of the Champagne, the Jurassic Argonne forests and the shale plateaux of the Ardennes.
The Bénazets once brought the world to Baden-Baden.
Now BÉNAZET VODKA brings Baden-Baden to the world.